Have you been wanting to book yourself a weekend away but have no idea where to go? We've got the perfect mix of rustic and luxurious to get you rested and restored after a long week. The Scenic Rim has so much to offer and you'll find everything from local food and drinks to hand-made soaps waiting for you upon arrival. You've probably heard all about the incredible scenery and delicious food of the region but if you're wondering where the best accommodation is, here's your comprehensive list of the Top 5 Places to Stay in the Scenic Rim:
Old Church B&B
The Old Church Bed and Breakfast at Milford offers luxury bed and breakfast accommodation, retreats and weddings in a rural setting. The Old Church B&B also offer wine tours of the Scenic Rim for its guests, visiting local wineries and breweries including Normandy Wines, Bunjurgen Estate Vineyard, Scenic Rim Brewery, Kooroomba Vineyard, and The Overflow Estate 1895. With its rustic, homely aesthetic, you'll fall deeply in love with what this B&B has to offer.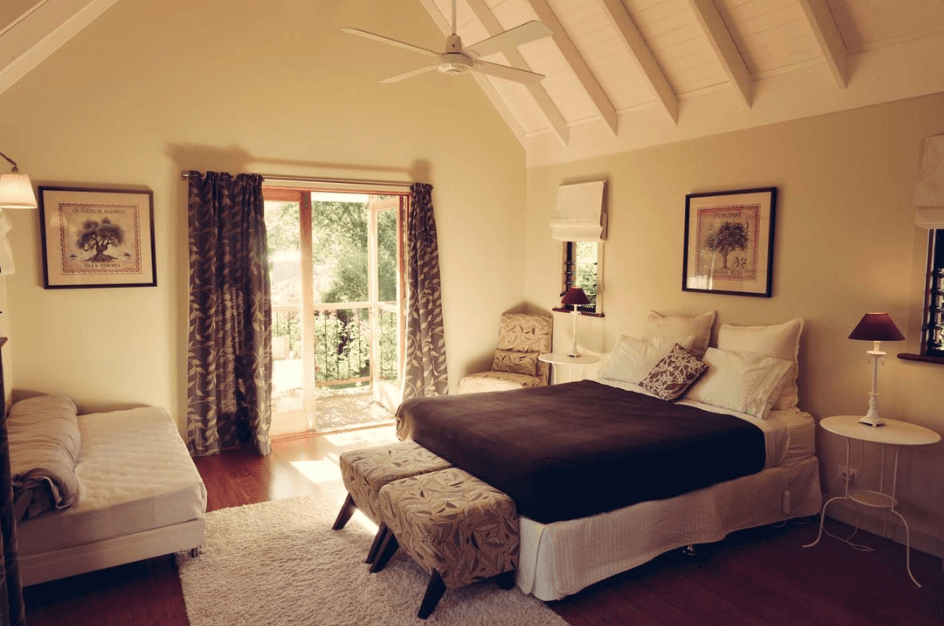 Greenlee Farm & Cottages
In 1995 Robyn and Paul Lee moved to a property in Canungra on the foothills of the Darlington Range, and established a small macadamia orchard. They planted 500 trees, which took many months of hard labour as the land, previously used for grazing, was entirely bare. It took five years for the trees to produce a few buckets of nuts, and another two until there was enough nuts to sell. These days they sell their macadamia nuts through retail shops, wineries, markets and festivals across the Scenic Rim. These gorgeous macadamia orchards provide a scenic backdrop for the cottages, only 12 kilometres south of Canungra – an old woodcutting town from the 1880's. The Silky Oak, Callistemon, Woodcutters and Casuarina lodges all pay a namely homage to most common timbers found on the property. Robyn and Paul also keep bees, an essential part of the pollination process of macadamia trees, and sell jars of golden raw honey. A hands-on family business that strives to be clean and green, the folks at Greenlee Farm and Cottages look forward to your visit.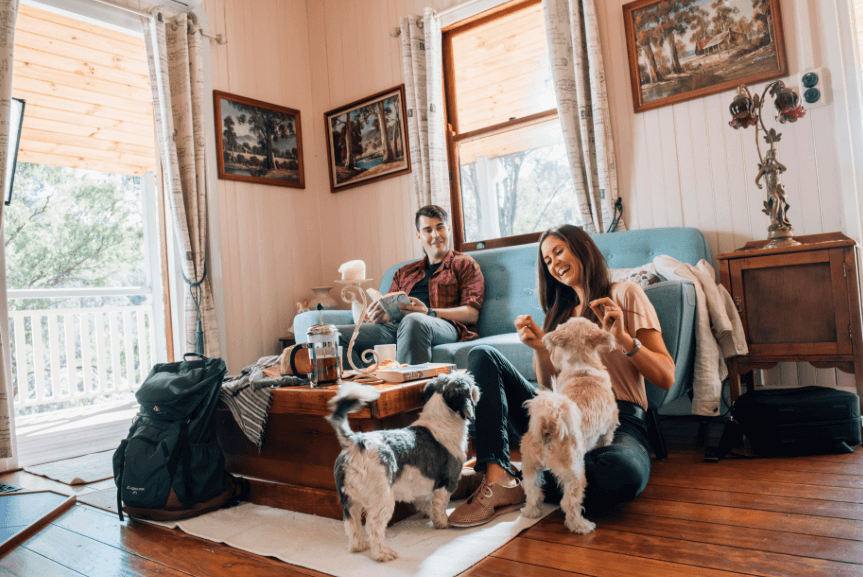 Mt Barney Lodge
Mt Barney Lodge is located in the beautiful Scenic Rim next to the World Heritage-listed Mt Barney National Park and right at the base of Queensland's most impressive peak – Mt Barney! The accommodation and campground have stunning, scenic views of the surrounding McPherson Ranges, including Mt Barney, Mt Maroon and Mt Lindsay. You can stay in rustic cabins, Queenslander Homesteads, or try Glamping just a scenic 90-minute drive away from Brisbane or the Gold Coast.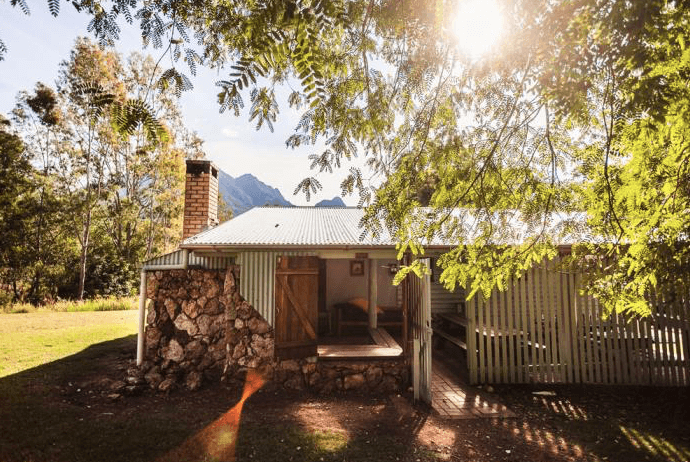 O'Reilly's Rainforest Retreat
The O'Reilly family pioneered ecotourism in Australia when they began hosting visitors in Lamington National Park in 1915 and later charging for this service in 1926. In those days, the former O'Reilly's "Guest House" and slab huts took nature lovers two days via car, train and horseback. Now, find your way to this serene destination, only 90 minutes from the Gold Coast or 2 hours from Brisbane, where you can choose from one, two- or three-bedroom Valley View Villas, A Mountain View Studio or Apartment. Head out and take in all the activities O'Reilly's has to offer from 4WD tours, to glow worm encounters, to a Segway safari and more, you'll find the perfect way to make the most of your stay. After a long day of guided walks, animal encounters and bird shows, take in the picturesque sunset at a surprise venue for only $10 per person, which includes a drink and the best views of the sinking sun.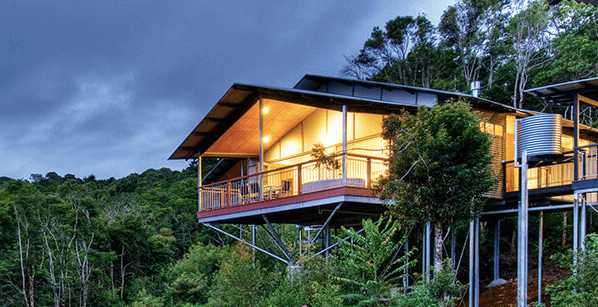 Nightfall Camp
Nightfall's hosts Steve and Jaide, offer a choice of 5 luxury tent structures. It's all about Glamping. A hosted experience that comes from the heart, Nightfall is renowned for its rigorous attention to detail and loving hospitality. Picture this: exploring the wilderness; tumbling, clear water over a rocky creek bed; mornings filled with bird song; evenings spent bathing in the luxury tents with a glass of wine. This is the breathtaking, one-of-a-kind experience you can expect from Nightfall, a place to leave the worries of the world behind and take in every beautiful moment in this tranquil location.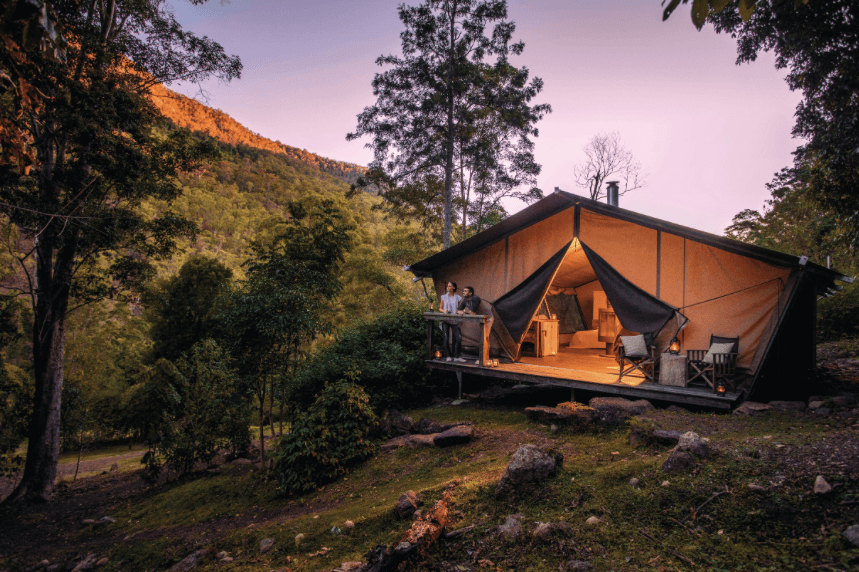 Escape the mundane and explore the unbelievable beauty that the Scenic Rim has to offer. Stay for a night, a weekend or a whole week and treat yourself to an itinerary of activities on offer at these unique locations. Book now, you can thank us later!
You might be also interested in …
Where to eat in the Scenic Rim – read more here
What to see and do in the Scenic Rim – read more here
BEKKI FOWELL (@darlingbekki)
Bekki Fowell is a social media enthusiast who lives in Brisbane and enjoys writing in her spare time. She has been posting online-content for over 10 years, check out her Instagram page, which she started in the Spring of 2012. On days off she over-indulges in sweet food and spends time with her boyfriend Jake, and Raph her cat.