Here in Brisbane, we are spoilt for choice when it comes to markets. They are held frequently both in the inner-city and its surrounding suburbs. If you're anything like me, you're keen on the easy Sunday morning vibes that come along with a market stroll. Whether it's candles, clothes or freshly squeezed juice, you've got to check out all the markets on offer in our beautiful city! Here are just a few to get you started.
THE COLLECTIVE MARKETS at Southbank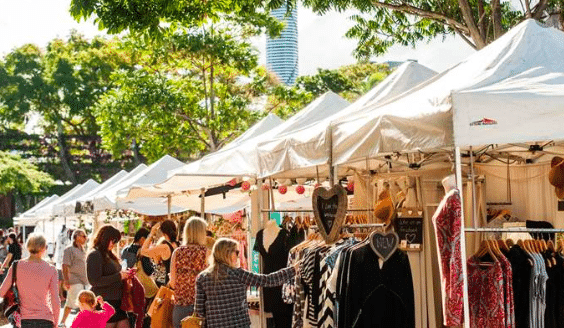 The Collective Markets are held every week for three days over the weekend. Here, you'll find a treasure trove of vintage clothing and trending fashion, photography and art, candles, soaps, crystals and jewellery. Along with these fabulous stalls, you'll also find some delicious food and drinks to keep you satisfied while you browse the goodies. You'll find the markets in Stanley Plaza on Fridays (5 PM – 9 PM), Saturdays (10 AM – 9 PM) and Sundays (9 AM – 4 PM). One of the really wonderful things about having this market in the heart of Southbank is that once you've filled your bags with goodies and had some delicious snacks, you can duck straight over to Streets Beach for a dip or take the kids to the playground to let off some steam!
RIVERSIDE AT THE GARDENS MARKET at The Brisbane City Botanic Gardens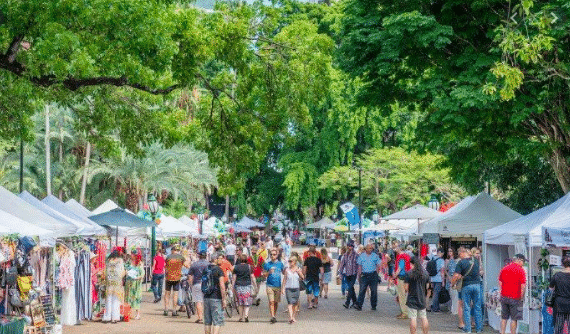 These markets have such a central location that you simply must go and see what they're all about! Catch the bus, train, ferry, or walk, ride or drive to the corner of Alice Street and Albert Street. Prepare yourself because these markets are gorgeous! There's live music every morning to help wake you up and if that doesn't work, there's always coffee. The markets open at 8 AM and run until 3 PM. Here, you'll find an array of beautiful clothing, gemstones, plants and jewellery to peruse. Oh, and just so you know, dogs are very welcome to attend too so you can either bring your furbaby along or you can spend your time making friends with other people's pets! The markets are on every Sunday, so you've got plenty of opportunities to see what it's all about. Check out their Facebook page for updates and information.
MILTON MARKETS in The Milton Green Complex
Milton Markets are Inner West Brisbane's premium food, farmers and lifestyle markets. The atmosphere here is lovely, it really makes you feel like you're somewhere else. As you make your way around the stalls, you'll find unique gifts, fashion and jewellery and a huge selection of baked goods, traditional foods, fresh local meats, seafood and eggs straight from the farm! These markets are located right across from a multi-storey car park, which makes it super easy to access and entry to the market is free! Rope in your boyfriend or your bestie and spend the morning shopping, sipping coffee and enjoying some live music from 6 AM – 12 PM every Sunday!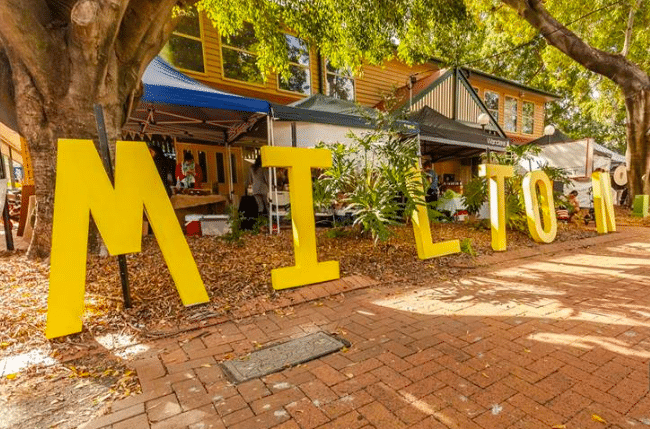 OLD PETRIE TOWN MARKETS on Dayboro Rd, Whiteside
Every Sunday from 7 AM 'til 1 PM, Old Petrie Town hosts stalls from a wide variety of vendors. The markets have been in operation for over 30 years and they're some of my favourites! The atmosphere is otherworldly, and the unique selection of gifts and food is to die for. The shops within the historic town's buildings are also open for business including the Steam Museum, a fascinating experience for the whole family. Come lunch time, you'll be spoilt for choice with food options ranging from baked goods to burgers and fries. You might even spot some furry koalas up in the gumtrees! Don't forget to take your camera as this place is photo-ready and waiting for you to come and explore.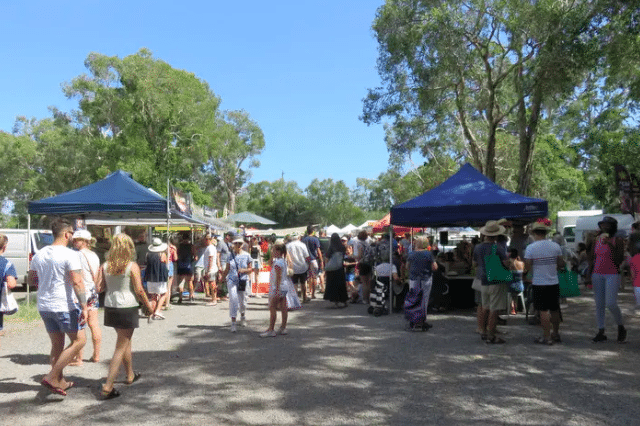 Bring your kids, your dog and your keep cup. Bardon Community Markets are located at Norman Buchan Park, where the kiddos can play while you grab a coffee with your furry friend. Though small, these markets provide a good variety of food and fresh produce, as well as other gifts and goodies. Come for breakfast and stay for some live music, shopping and fun. You'll be set for your weekly meal prep by lunch time and the best part about it is that you know exactly where your produce has come from! Head over to these markets on Sunday from 7 AM – 12 PM and support small, local businesses.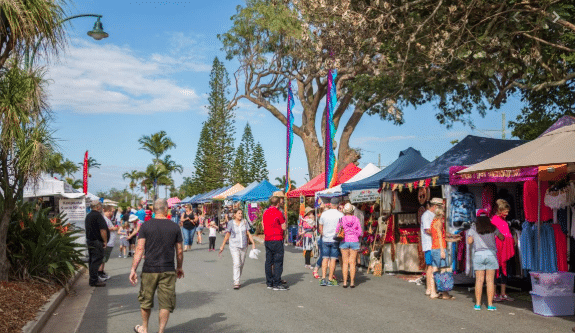 Got a favourite market? Let us know! Don't forget to tag @ladybrisbane in your photos if you visit any of these markets, we'd love to see what you get up to!
You might also be interested in …
Where to keep cool in Ipswich – read more here
Experience the romance of train travel now departing Brisbane – read more here
BEKKI FOWELL (@darlingbekki)
Bekki Fowell is a social media enthusiast who lives in Brisbane and enjoys writing in her spare time. She has been posting online-content for over 10 years, check out her Instagram page, which she started in the Spring of 2012. On days off she over-indulges in sweet food and spends time with her boyfriend Jake, and Raph her cat.