This film is intense… emphasis on the tense.
The plot follows two protagonists; Carol Shelby, an ex racing car driver and 24 Hours of La Mans winner turned car manufacturer, played by Matt Damon, and Christian Bale as Ken Miles, an extremely talented driver and engineer with a mercurial temper. Shelby is tasked with helping Henry Ford II and his company, topple the legendary Ferrari racing team that had been dominated the La Mans standings for the last five years up until 1966. That's as brief as I'm going to leave my summary though, because If you don't already know the full, true story
behind Ken Miles, Carol Shelby and the Ford v Ferrari battle, then do yourself a favour and go into this as blind as possible. Even avoid trailers, if you can, for the most impactful, albeit stressful experience.
In 1948 when asked about the impending war, Winston Churchill is famously quoted as saying, "History will be kind to me as I intend to write it". He didn't actually say those exact words but that's beside the point. The quote still applies, because though this film explores a conflict between two car-manufacturing companies, it was without a doubt an all out war. A story of collusion, foul play, politics, greed and for the unfortunate few, injury and even death. It goes without saying that Ken Miles wrote history at this time, but if only it had been kinder to
him in the moment.
James Mangold, who has only recently achieved mainstream credit after his 2017 critical and financial success, Logan, has delivered another exceptional cinematic experience. Though some of his past films have received fairly mixed reviews, in my opinion his talent is extremely under-rated, as he has directed some brilliant films; including 1999's Girl Interrupted, 2005's Walk The Line and one of my personal favourite westerns, 3:10 to Yuma (2007). For Ford v Ferrari, he assembled a stellar cast with few to no weak links as a result of some great supporting performances from Jon Bernthal (Lee Iacocca), Josh Lucas (Leo Beebe), Caitriona Balfe (Mollie Miles), Tracey Letts (Henry Ford II) and Noah Jupe (Peter Miles). It goes without saying that Christian Bale and Matt Damon absolutely kill it in their respective roles, from their accents to the sheer authenticity they bring to each character. It's hard to believe the pair hasn't worked together before, because their chemistry was palpable, and along with a solid script, it was difficult not to smile whenever they shared the screen. But it must be said that Bale absolutely stole the show in every scene he was in, with his gritty, working class sarcasm and cocky, hot-headed enthusiasm. As always, his commitment to transforming himself for each role is breathtaking, as he lost almost 70 pounds in less than a year after playing Dick Chaney in Vice (2018). Despite how flashy Bale's performance was, it should be noted that Matt Damon put just as much heart and sincerity into his performance resulting in one of my favourite roles of his to date.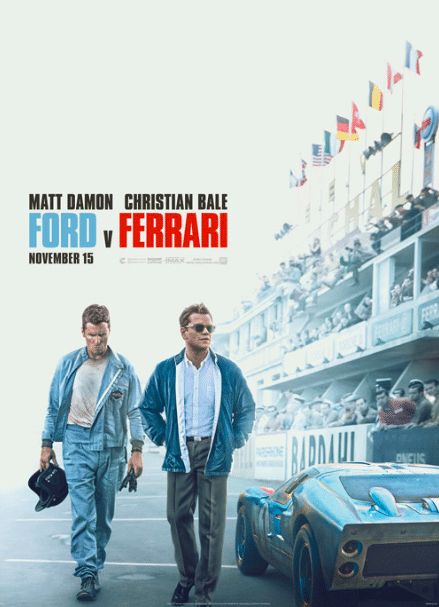 If you plan to see this film solely for the racing, I can assure you that it does not disappoint. The multiple, high-octane racing sequences are made all the more authentic by outstanding set and prop design. Rather than relying on CGI, Mangold opted for the more classic approach of rebuilding all the original cars and actually filming the races and crashes using elaborate rigs and cranes. This dedication to authenticity boosts the emersion ten fold, making it feel like you're right there alongside Ken Miles as he is racing, because, in fact, you are. Credit
must also be given to the outstanding talent of the stunt drivers, without which, this wouldn't have been possible. When CGI was utilised it was done seamlessly and only to enhance the overall viewing experience to that extra extent that practical effects can't provide. I was lucky enough to see this film in Vmax and I would recommend that format to anyone who has access to it because the sound design was absolutely phenomenal and added a whole other dimension to the racing sequences.
For those who aren't car obsessed rev heads, don't worry; this film has an unlikely soft spot in the form of family. Maybe this is just due to the other, hyper violent thrillers that I've seen of late, but the healthy, father/son and husband/wife dynamic of the Miles family was incredibly wholesome and refreshing, adding a whole other grounded, more human layer to the story.
Though in reality this film is about two giant corporations going head to head, that never seemed like the main focus or the underlying point it was trying to make. At its heart this story is about people, real people who were born to do something, whether it's making cars or racing them. For those people there isn't a compromise or a shortcut, that is their life. It gives them a sense of purpose, a feeling of euphoria and god help anyone who tries to get in the way of that. But you don't have to be into cars to relate to this, because I personally found a
powerful connection to this theme, as I feel the exact same way about my own dreams and passions. With such a strong motif at its core, complimentary performances that never felt at odds, and the flare in which it was all captured and put together, this film brought me to tears by it's end.
⭐⭐⭐⭐ 4.5/5 stars
You might also be interested in …
Where to keep cool in Brisbane – read more here
Beau Rumble restaurant review – read more here
EAMON KINGSTON (@eamon.dane)
Eamon recently graduated from the acting course at New York Film Academy Gold Coast, and has been let loose into the big wide world to find his way in the confusing maze that is the film industry. In his Eamon's words "I have a passion for film, obviously, but also music, art and football (soccer, because this is Australia). I look forward to giving you my thoughts on all the latest films, and I hope you enjoy what I have to offer." Keep up to date with Eamon on Instagram and on Letterboxd.com.