Have you been looking for date ideas that won't burn a hole in your pocket? Well look no further! We've put in the hard yards of internet research and compiled our 2019 list of inexpensive date ideas around Brisbane. Whether it's food, adventure or games you're into we have something for everyone in our 'Date Ideas under $50'.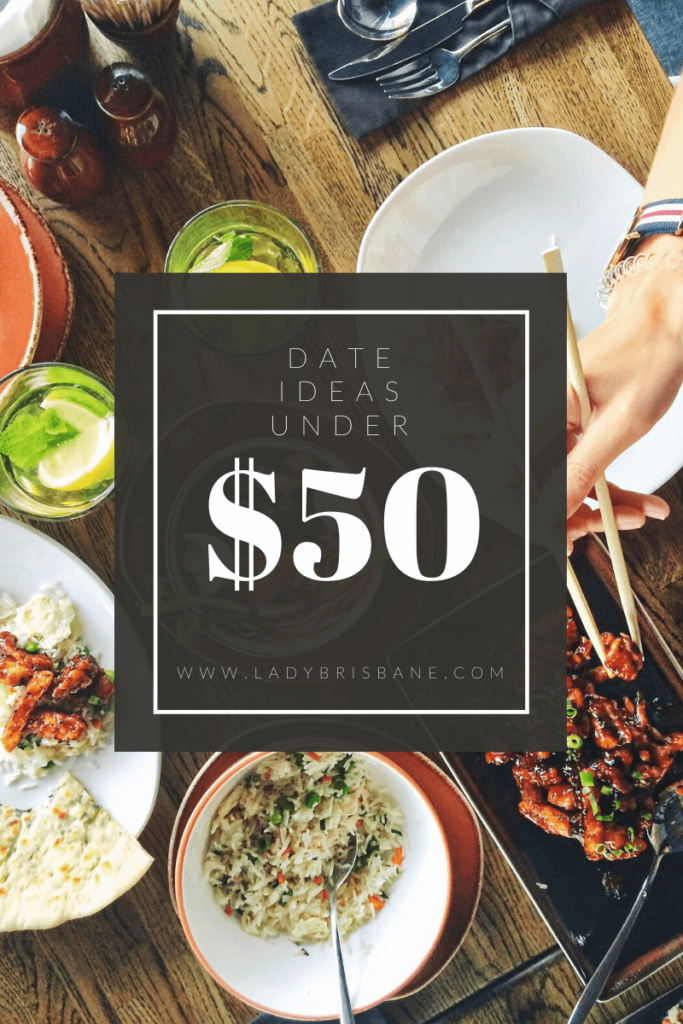 Enoggera Reservoir
Pack your swimmers and a pair of walking shoes because you're about to discover the beauty of Brisbane's backyard. Located just past The Gap, at the foot of Mount Nebo, Enoggera Reservoir is a serene summer location with loads to see and do. Start your day at the Walkabout Creek Information Centre, where you can learn more about Queensland's amazing national parks. Book your entry to the Discovery Centre and at 10 AM (or 2:30 PM if you'd prefer) watch the park rangers feed the unique platypuses. Wildlife Discovery shows are also held every weekend at 11 AM and 1:30 PM, where you can get a close-up of some of the centre's scaly and furry friends.
Spend the rest of your day walking, cycling, paddling or swimming around the reservoir or relaxing under the shade of a tree. Bring your own paddleboard, kayak or inflatable flamingo and spend the afternoon taking in the sights and sounds of the Queensland bush. With a picnic basket full of your own drinks, snacks and sunscreen (slip, slop, slap!) you're all set for the perfect day out!
COST: $16.40 for 2x Adult entry to the Wildlife Centre + any snacks and drinks you bring along!
*Enoggera Reservoir is open 6 AM – 6 PM daily. 
UpStairs
There is plenty to take in at Toombul Shopping Centre's new UpStairs section! Our recommendation is a cheeky meal at Hello Harry before exploring all that this neon playground has to offer. There are neon swings outside and beautiful colour-changing fountains. Inside, you'll find a popcorn ball pit, swings, a seesaw and the infinity room – complete with disco balls. This playground is not just for the kids – in fact, it was designed with the young-at-heart so arm yourself with your camera and snap some sneaky shots. Your Instagram won't know what hit it!
COST: $38 for 2 burgers and 2 drinks (burgers start at $11 and drinks start at $8)
More from UpStairs:
Archie Brothers Cirque Electriq
Il Gancio
Little Red Dumpling
South Bank Collective Markets and Cinema
The perfect weekend date begins at Stanley Street Plaza in South Bank. With a creative mix of art, fashion, gifts and delicious goodies, if won't be long before you find a way to treat yourself. Once you've taken a peek at all that the stallholders have on offer, take a iced drink with you as you wander the path along the river. Walk along the boardwalk to the Nepalese Pagoda that rests among the rainforest – the perfect place to stop on a hot, summer's day. When you're ready, head on over to Cineplex (South Bank's cinema) and purchase your ticket to one of the daily screenings. Grab some snacks and drinks and sit back and enjoy the show. Finish the day off with a trip to the Queensland Museum or GOMA and if you're still around after sunset, change into your swimmers and take a dip in the water at Streets Beach. The city views are absolutely incredible of a night time and it's a beautiful way to wind down after a day out. 
COST: $30 – $50 depending on what you decide to purchase during your day out. Cinema tickets start at $8.50 for standard weekend screenings (adult) and snacks at the cinema are inexpensive. Follow this link to book your seats in advance.
The first and only precinct in Queensland to have earnt Heritage Hero status through the National Trust, Howard Smith Wharves has brought a piece of Brisbane's history back to life. Explore this beautiful riverside destination and take in the incredible view of the Story Bridge and the rich history of the air-raid shelters, held within the landscape. Head over to Felon's Brewing Co. for a cold beverage and share some fish n chips with your special someone. If the outdoors seems to be calling your name, grab your food and drinks to go and take this date-night to the boatyard! Just minutes away from the hustle and bustle of the city's centre, you'll be pleasantly surprised by the serenity you will find as the hours drift away, lost in conversation and catch-ups.
COST: $45 approximately for Felon's Battered Fish n Chips (to share) and 2 drinks.
More from Howard Smith Wharves:
Mr Percival's
ARC Dining
Stanley Restaurant
Goodtimes Gelateria
Yoko Dining
Ciao Papi
Greca
Polpetta
Betty's Burgers
There is so much to see and do in this incredible city and its surrounds. With hidden goodies right here in our own backyard, you're certain to find the perfect date for you and your partner (or bestie)! If you find a hidden gem or decide to head out on one of our Dates Under $50, don't forget to tag us in your photos @ladybrisbane – we'd love to see what you get up to!
You might also be interested in ….
How to spend 24 hours in Brisbane – read more here
What to see and do in the Scenic Rim – read more here
BEKKI FOWELL (@darlingbekki)
Bekki Fowell is a social media enthusiast who lives in Brisbane and enjoys writing in her spare time. She has been posting online-content for over 10 years, check out her Instagram page, which she started in the Spring of 2012. On days off she over-indulges in sweet food and spends time with her boyfriend Jake, and Raph her cat.