Holy Shit!
I had the pleasure of seeing The Book of Mormon for the first time during it's Limited return to Brisbane. I went into this with, what I thought was, an adequate prior knowledge of the material. This essentially meant I somewhat knew what the story was about and had memorised all the lyrics to "Turn it off". But it turns out I was dead wrong. Nothing could have prepared me for the vulgarity, insensitivity and pure BRILLIANCE of this masterpiece… I loved every second of it.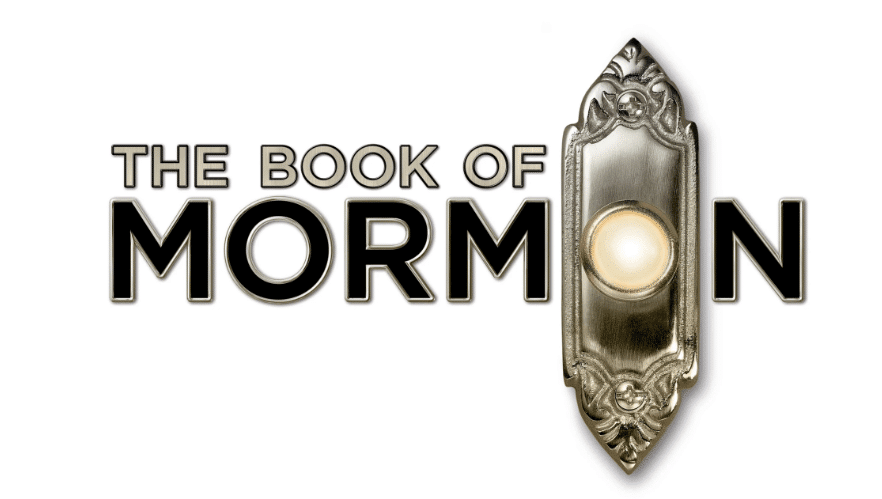 The fact that The Book of Mormon has been touring the world for almost 10 years and is still going as strong as ever, especially in today's over cautious, PC climate, is astounding to me, but I am so happy it is. I will say, right off the bat that this isn't for everyone. If you are easily offended, defensive about religion, or if you are in fact Mormon, this probably isn't the musical for you. On the other hand if you don't take yourself, or life, too seriously and are able to appreciate the subtle (and not so subtle) aspects that make up this satire, then you will be thoroughly entertained.
Before arriving I had mostly only seen University level productions or one off award ceremony performances, so I wasn't sure what to expect in terms of the production design. But the first thing that I noticed when I walked in was how beautiful the initial, opening set looked; a blend of cathedral style architecture on a brilliantly coloured cosmic backdrop. I was pleased to see that the production value remained consistent throughout the entire show, with multiple detailed and elaborate sets that really helped to immerse me in some of the far fetched settings in which the narrative takes place. I was also glad to see how dynamic and reusable some of the sets were, many of which were utilised in different ways for separate scenarios with equally exceptional results each time.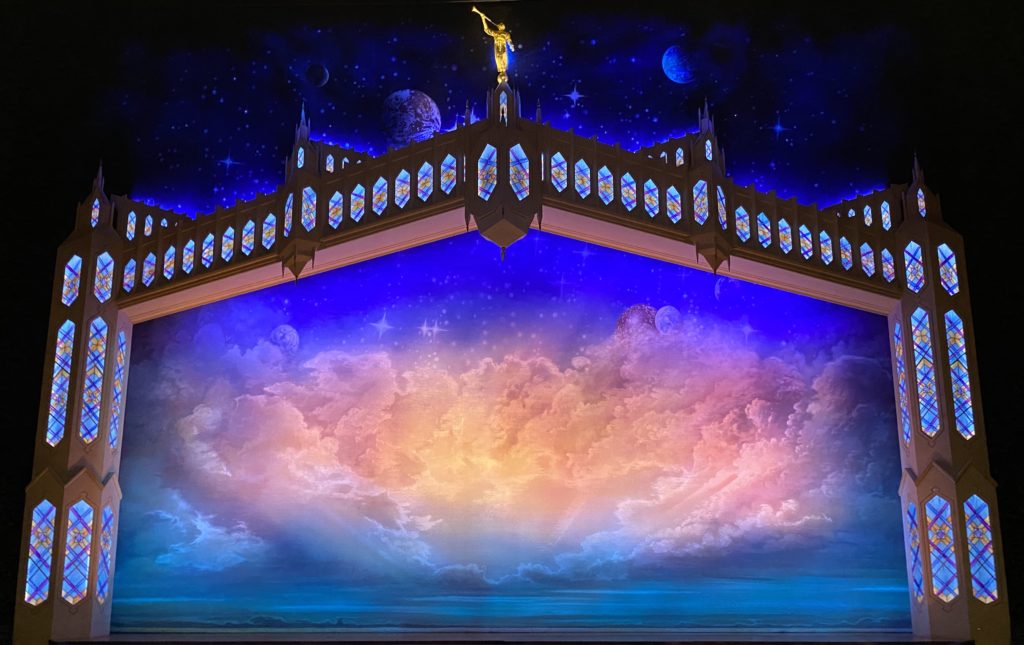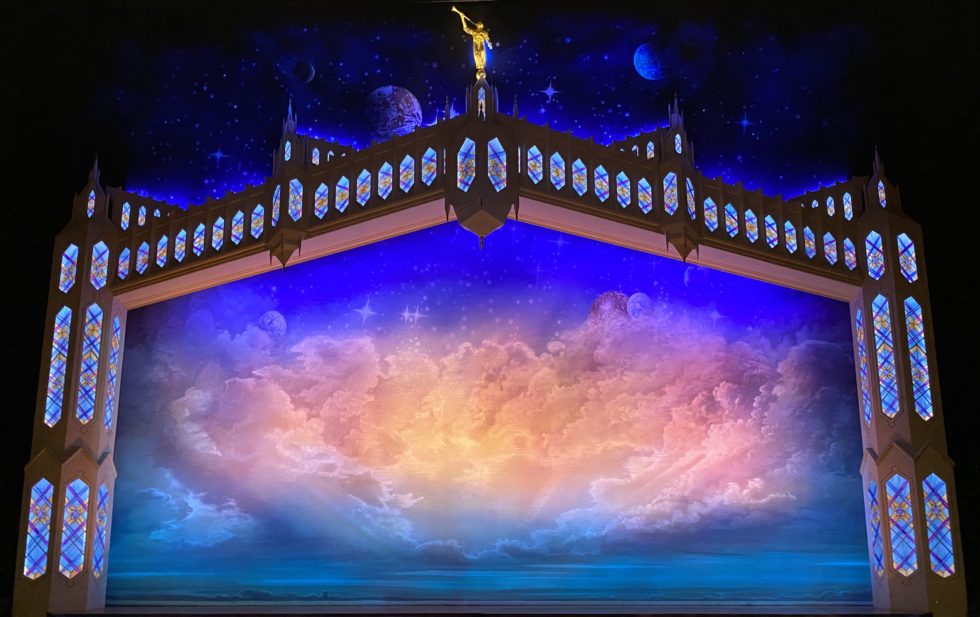 Being a musical, the music was a core theme throughout… surprise, surprise. Like I said, I was familiar with a few of the songs. So, though I anticipated enjoying the show, I thought it might just be like when you're listening to an album, but only one or two songs are good so secretly just waiting for those songs to come on. But I soon forgot about my nervous anticipation, as I was astounded right from the first harmonisation in "Hello". That first song resulted in a giddy, childish grin that remained plastered on my face right up until the final crescendo of the final coda in the final song. The official soundtrack has been my go to for just about every car trip since (to the annoyance of a few of my friends), and I am yet to succeed in getting some of the songs unstuck from my head. So I'd say it was a job well done in that department.
I won't go into this too much as it isn't at all my area of expertise, but the dance numbers and choreography were absolutely outstandingly executed, never taking away from the story or feeling forced or out of place, but rather elevating each set piece as well as my already elevated spirits. One aspect that got me extra excited, which I may not be able to do justice to with this limited explanation, but I'll try. From what I could tell, many of the songs were written in the same key.
This allowed for a few moments where different songs were performed simultaneously, complimenting each other and resulting in delightful
harmonisations. Though it was very-in-your-face and unforgiving a lot of the time (which I loved by the way), the writing was extremely clever and worked perfectly for the story being told and the lessons being taught. For as much as very few punches were pulled and no love was lost in the process, I think, like any good story, there were some very serious and valuable takeaways. Unfortunately its probably those who
are too offended to even give it a chance that are actually the ones who need to hear those lessons. But I don't want to dive down that rabbit hole. All in all it was brilliantly funny in ways I didn't expect but also underlying intelligent and expertly sewn together.
Lastly I want to mention what an amazing job the cast did. Though my previous exposure to The Book of Mormon was minimal, I had seen some performances from its early days with the original Broadway cast, and I must say, I think I much preferred this ensemble. Blake Bowden brought more maturity to his portrayal of Elder Price; really nailing that misunderstood, inner loneliness that makes the character so relatable, despite his cockiness and many flaws. Though I am a fan of Josh Gad's bubbly, self-aware, juvenile personality and brand of
comedy, I also think I prefer this iteration of Elder Cunningham, portrayed by Nyk Bielak, as his character seems a little more believable and errs more on the adorably sympathetic side through-out the narrative, whereas Josh Gad's version, from what I've seen, can at times be quite over-the-top, taking you out of the story a little. Like I said, the music was a highlight, of course, and the vocal performances were on par across the board, but Tigist Strode as Nabulungi was an absolute stand-out for me, hitting notes I could only ever dream off and backing them up with an adorably likeable performance. But the real MVP has to go to Joel Granger's outstanding commitment to the character of Elder "on no, no, no, I'm definitely not gay" McKinley who stole the show in just about every scene he was in.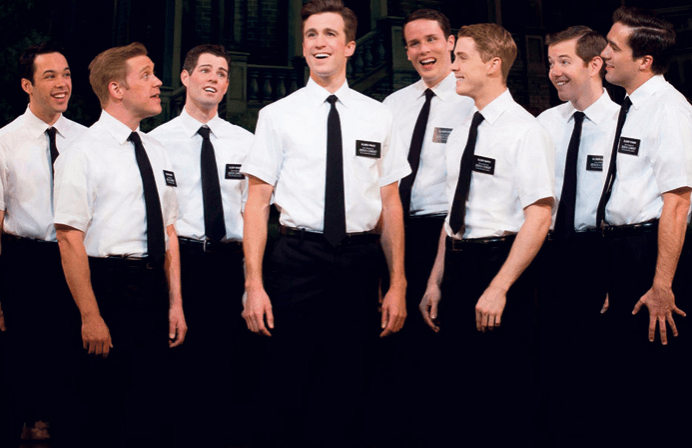 I could honestly go on and on about this production, the costuming, the rest of the ensemble cast, certain nuances in the script, but I'd rather you go see it yourself. I promise you it is worth it. My only regret is that I didn't see it sooner, and my only hope is that I get to see it again.
⭐⭐⭐⭐⭐ 5/5
You might also be interested in …
Cirque du Soleil amazes Brisbane – read more here
The romance of train travel – read more here
EAMON KINGSTON (@eamon.dane)
Eamon recently graduated from the acting course at New York Film Academy Gold Coast, and has been let loose into the big wide world to find his way in the confusing maze that is the film industry. In his Eamon's words "I have a passion for film, obviously, but also music, art and football (soccer, because this is Australia). I look forward to giving you my thoughts on all the latest films, and I hope you enjoy what I have to offer." Keep up to date with Eamon on Instagram and on Letterboxd.com.