Brisbane City Hall is one of Brisbane's most iconic buildings. Many of you have probably walked into this grand building, attended an event here or enjoyed a visit to the Museum of Brisbane. However did you know that you can take a tour of City Hall and discover hidden treasurers inside this iconic building?
Tours of Brisbane City Hall are conducted daily and include a Clock Tower tour which is definitely a Brisbane must do.
Yesterday I went on a tour of City Hall and here are 10 interesting facts I learnt –
1. Councillors come to City Hall once a week to meet in the council chambers and the public are permitted to watch these meetings. Lord Mayor Graham Quirk's office is located within City Hall.
2. Construction of City Hall started in 1920 and wasn't completed till 1930. The cost of construction was 980,000 pounds which was extremely expensive at the time, the building subsequently became known as the Million Pound building and today is often referred to as 'The People's Place'.
3. The ornate foyer located inside the entrance from King George Square is one of 3 foyers and is the biggest of the three. The columns within the foyer are made from marble from Queensland and Orange in New South Wales and the black marble at the base of the columns was imported from Belgium. While the staircase is carved from marble from Tuscany – the same marble that Michaelango used to carve the Statue of David.
City Hall main foyer
4. Mosiac floor tiles throughout the foyers were hand cut and laid.
5. City Hall is built on swamp land, see the below photo, which was once used as council works yards.
Construction begins on the original swamp site
6. The Sphere located on the top of City Hall was created by Fred Johnson, see his photo below, who was the contracted plumber on site. He was given 2 weeks to think of and create a design using very little money.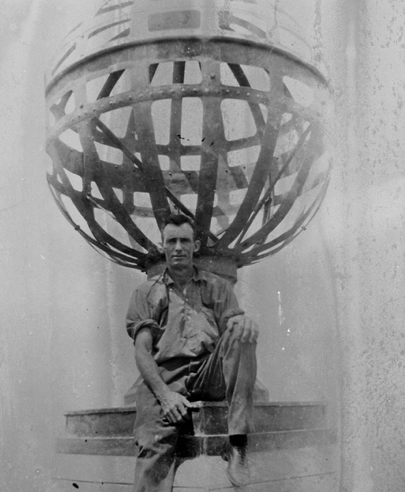 Fred Johnson. Image credit Brisbane City Council.
Image credit Brisbane City Council
7. Initially the Sphere was used as a radar to warn planes of the height of the building and later during the war to signal local suburbs of impending attacks.
8. Restoration of City Hall in 2010 took 3 years to complete. During this time all foundation columns were replaced. One last remaining original supporting column remains on display and it is interesting to see the damage to the foundations that preceded the restoration.
Original foundation columns
9. Located in the basement of City Hall is the heritage listed "signature wall".  The signature wall contains signatures, names, dates and enlisted numbers of many soldiers of different nationalities stationed in Brisbane during World War II.  Inscriptions with numbers beginning with QX identified the soliders as from Queensland.
Brisbane City Hall Signature Wall
10. An in-house kitchen was only added in 2010 when the most recent major refurbishment took place. Prior to 2010 meals were brought in for functions.
Book a tour and learn many other interesting facts about our iconic Brisbane City Hall. Tours of the City Hall Auditorium and Museum of Brisbane are also available.
---
Brisbane City Hall Tour
When – Tours are conducted 7 days a week at 10.30am, 11.30am, 1.30pm, 2.30pm and 3.30pm
Where – Inside King George Square entrance to City Hall
Cost – Free
Book – Bookings are essential. Visit Museum of Brisbane to book online or phone 07 3339 0845.
---